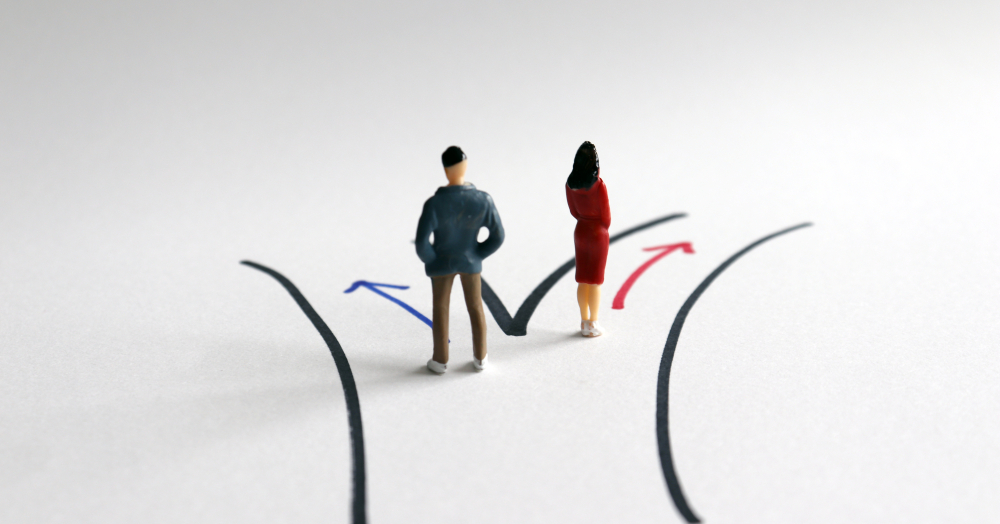 Commentators and newspaper columnists have done their best to divine insight from the recently announced drop in divorce figures.
The truth is that, while the numbers are interesting, reading any long-term trends into them is much harder.
In 2020, there were 103,592 divorces granted in England and Wales, a decrease of 4.5% compared with 2019. That fall seems to have surprised many who thought that the many stresses of the pandemic, including that first lockdown in March and the months of uncertainty that followed, would drive up the numbers.
The reality is most relationships finished off by Covid would have struggled to reach a decree absolute by the end of that year. The 'average' divorce takes something like four to six months and the courts themselves were hit by restrictions and lockdown.
Only after we've seen the picture for the succeeding years may we gain a clearer understanding of what impact Covid has had on couples taking action to end their relationships. Even then there will be other factors that have to be taken into consideration.
The numbers released by the Office for National Statistics for 2020 included:
The majority of divorces were among opposite-sex couples, 98.9%.
There were 1,154 divorces among same-sex couples, increasing by 40.4% from 2019; of these, the majority continued to be accounted for by female same-sex divorces 71.3%.
Unreasonable behaviour was the most common reason for wives petitioning for divorce among opposite-sex couples, accounting for 47.4% of petitions.
For husbands, the most common reason for divorces was a two-year separation. This accounted for 34.7% of divorces followed by 33.8% for unreasonable behaviour.
For same-sex divorces, unreasonable behaviour was the most common reason for divorce in 2020 for both female and male couples. Unreasonable behaviour accounted for 55.2% of female divorces and 57.0% of male divorces.
The average (median) duration of marriage was 11.9 years for opposite-sex couples, a decrease from 12.4 years in 2019.
For same-sex divorces in 2020, the average (median) duration of marriage was 4.7 years for female couples and 5.4 years for male couples. (Divorce among same-sex couples has only been possible since 2015 following the introduction of same-sex marriages in March 2014.)
No fault divorce
Currently in England and Wales, those wishing to divorce need to prove the marriage has broken down and cannot be saved. This can be on the grounds of adultery, unreasonable behaviour, desertion, separation for two years (with partner's consent to divorce) or separation for five years (without partner's consent).
That's all set to change from April 6, when so-called no-fault divorce is introduced. This will allow the dissolution of a marriage without the need to show wrongdoing by either party.
(Commentators have also surmised this may have played a part in 2020's divorce rate drop. Separating couples who did not want to have to prove fault may have waited for the legislation to come in. It had been set for introduction in autumn 2021 but was delayed.)
We wait to see how exactly the new system works. Our advice would always be to seek professional legal advice at the earliest opportunity if thinking about divorce or separation.
It is always important to be aware of all the options and implications. That way informed decisions can be taken about important matters such as family, finances and relationships.